Skilled labor training and the creation of a close link between human resources development and the application of science and technology for the provinces in the Mekong Delta are critical. Science, Technology, Engineering, and Mathematics (STEM) have emerged as a common trend in the region and worldwide and play an important role in promoting social and economic growth.
In order to promote the development of workforce to be more skillful, dynamic and adaptable to the ever changing economy and employment market, on November 2nd, 2017, Can Tho University (CTU) collaborated with Arizona State University (ASU) and Institute for Science and Technology Innovation of the Association of Vietnam Universities and Colleges to organize the International Scientific Workshop on STEM Higher Education for Mekong Delta Development. The workshop has received great interest of scholars, lectures and administrators from USA, Korea, Indonesia, England
The aims of this workshop is to create a platform for lecturers, education managers and scholars to raise their understanding of skilled labor training and quality assurance of STEM higher education. The goal is to build a research network for lecturers, education managers and scholars to exchange knowledge and collaborate to study the issues in training skilled labor for Mekong Delta of Vietnam.
The workshop consists of two keynote addresses and six parallel sessions with 23 presentations themed on STEM curriculum development, effective university-industry partnerships to respond to the growth of the Mekong Delta, quality assurance of STEM programs: Accountability and enhancement, STEM programs in online learning, research and innovation policies in STEM programs, teacher training for STEM high school education. In general, the presentations and studies have shown great interest in STEM education for socio-economic development not only in the Mekong Delta but also in the whole country.
(Information and Network Management-CTU)
In the context of education sector eagerly welcoming the new school year, in the morning of September 05th, 2017, Teacher Practice High School of Can Tho University (CTU) solemnly held opening ceremony of the new school year of 2017-2018. Attending the ceremony were Assoc.Prof.Dr. Ha Thanh Toan, Rector of CTU; representatives of faculties, institutes, departments, centers of CTU; together with teachers and students of Teacher Practice High School.
On October 12th, 2011, Teacher Practice High School was established with the aim of becoming a high quality model school in Can Tho city as well as in the Mekong Delta and across the country. At the opening ceremony of the 2017-2018 school year, teachers and students of  Teacher Practice High School are proud to look back at the achievements that they have made in the past school year. Notably, 100% of grade 12 students have graduated from the school, and 149 out of 151 students (98.67%) have attended universities.
In addition, students of the school also brought about many encouraging awards such as 01 second prize in Chemistry at city level contest for outstanding students; 01 second prize at English speaking contest organized by CTU Center for Foreign Languages; 01 fourth prize at English speaking contest, 01 first prize, 01 second prize, 03 fourth prizes at English contest on Internet, 01 second prize and 01 third prize in Science and Technology contest (held by Can Tho city Education and Training Department); first prize at BAY-COMPETITION 2017.
In the new school year of 2017-2018, Teacher Practice High School received 149 students to form 4 grade 10 classes. Those students are outstanding individuals from middle school within Can Tho city, who passed the entrance exam with the highest marks, compared to those in the system of high schools of Can Tho city.
Assoc.Prof.Dr. Ha Thanh Toan, Rector of CTU praised the outstanding achievements of teachers and students of Teacher Practice High School in recent years. The Rector also acknowledged thanks to Parents' Association and units of CTU, the local authorities and enterprises accompanying and supporting the School for those achievements. The Rector affirmed that CTU always creates the best conditions for students in the process of studying and training at the School. Besides, students are expected to make efforts for skills development, especially foreign language competence, to establish the foundation on the path of university education and international integration.
The opening ceremony marks a new journey with a firm belief to further enhance the quality of teaching and learning. The achievements crystallized from the efforts and enthusiasm of teachers and students of Teachers Practice High School have confirmed the level and brandname of the School. With the deep concern of CTU, the support of students' parents, and the highest efforts and responsibilities of the staff and all students, Teacher Practice High School determines to accomplish all the tasks assigned in the 2017-2018 school year, to reap even more accomplishments, and to be worthy of the trust of CTU and society.
(Information and Network Management Center)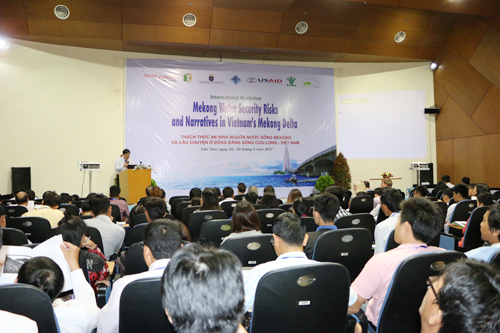 On May 29th, 2017, Can Tho University (CTU) collaborated with People and Nature Reconciliation, Embassy of Sweden in Vietnam and Vietnam Environmental Journalists Forum held International workshop on Mekong water security risks and Narratives in Vietnam's Mekong Delta. Attending the workshop was about 200 delegates including government officials, non-governmental organizations, scientists, regional and local reporters from Vietnam, Sweden, Cambodia, Laos, Myanmar, and Thailand.
Vietnam's Mekong Delta is now one of the world's most fragile regions appearing most vulnerable to climate hazards, notably temperature rises and extreme drought followed by freshwater scarcity and salinity intrusion. More challenging is the fact that upstream dam-building and water diversion projects have caused severe and irreparable damage to the Delta, making the impacts of climate change become much more serious than what was assumed in prevailing climate change scenarios. As a result, the Delta has so much at stake due to increasing water shortages, which in turn may lead to increased rate of salinity, inland ground depression, and humanitarian and other economic impacts.
The workshop aims to bring together recognized scientists, experts, journalists, government officials and farmers across the Mekong Basin to tell their stories, their experience and their aspiration in coping with the increasing water shortage caused by the Mekong mainstream dams and climate change. The outcomes would be expected to raise awareness about dual impacts simultaneously caused by climate change and upper Mekong unsustainable hydropower projects environment on the Lower Mekong Subregion, including the Mekong Delta of Vietnam and that of Cambodia; to build understanding across regional journalists of the Mekong water security risks and their implications for regional and international communities from ground-up and interdisciplinary perspectives; to promote better communication and media practice on environmental security matters in the Lower Mekong Subregion so that the voices of local communities and affected areas could be heard and acknowledged in advance; and to enhance information-sharing and networking among journalists across the region.
Speaking at the workshop, Assoc.Prof.Dr. Ha Thanh Toan, Rector of CTU stated "I am confident that this workshop and its follow-up field trip will be a great chance for foreign environment journalists to experience and thoroughly understand the real situation in Vietnam's Mekong Delta which is recognized both as the world's important biodiversity conservation region and as the downstream victim of upstream mismanagement".
Assoc.Prof.Dr. Ha Thanh Toan presenting flowers and gifts to Swedish journalist andrepresentative of People and Nature Reconciliation

 (Source: Information and Network Management Center - CTU)